BVH Animation Conversion for OpenSim and Second Life
There are many available animations in the CMU library and at web sites such as Mixamo by Adobe. You can convert those BVH animations to Second Life or Opensimulator format with Blender and the Avastar plugin by Machinmatrix.
Avastar cost $29.00 and can be purchased at machinimatrix.org. You will need to follow their instructions to install the plug in.
This lesson will show you have to convert a Mixamo animation to the Avastar format using Blender 2.76. Mixamo is available "for a limited duration as a technology preview and is available free, without license or royalty fees, for unlimited use in both commercial and non-commercial projects". There are some restrictions! You cannot give their their animations and models files on a web site. The file you get, such as a DAE or a BVH file, can be changed in any way you want, and used in-world in any way. You can use BVH files in NPC's and AO's, too, since BVH is not generally exportable from Opensim or Second Life. For more information, read their forum.
You will need to create an account at Mixamo and get a free Adobe ID. Navigate to Mixamo.com and create your account. Once you are logged in, you will get a screen like this:
Click any Animation Photo and you will get a screen like this. I am choosing the Creature Pack:
After a few seconds, you should see an animation playing:
Click on Customize Animation at the right, and delete any animations you will not be converting.
Give the animation set a new name. I am using "Mutant"
Click View/Download: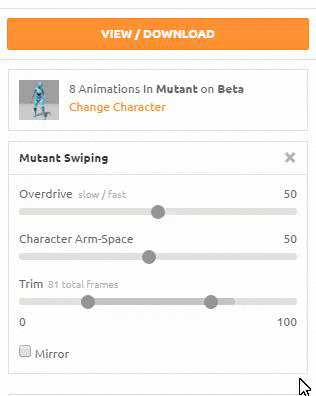 Click the Queue Download button on the left
Set the download type to Biovision BVH. The default settings are fine for Opensimulator and Second Life.
Click Queue Download and wait for it to finish. Then click the download link
Unpack the resulting zip file on your hard disk, and we can now convert them to Opensim and Second Life! Now go to Part II of BVH Animation Converting for OpenSim and Second Life
Back to the Best Free Tools in Second Life and OpenSim.